I lived in one of Courtyard007's Homeudream apartments for less than three months and decided to leave after two floods and a gas leakage.
1st Flooding
After three days in the countryside, I came back to Beijing to find my apartment completely flooded. The floor was still wet, a few bumps had formed and the carpet, shoes and anything touching the ground were completely soaked. I saw the agent in the courtyard (she lives there as well), informed her about the damages and asked her to send someone to have a look.
She replied that she did not know what was wrong and that I just had to deal with it, because the rain had been exceptionally heavy. When I insisted she deal with the problem, the agent switched topics and told me that calling her "Ayi" was highly offensive as I was older than her. I apologized and explained that it was a genuine language mistake. But she kept the accusations coming.
She then told me I had to inform her every time I left Beijing for more than one day. She concluded by saying that she was going home otherwise she would beat me up and that I should never disturb her on her days off.  No worker showed up to look at the apartment.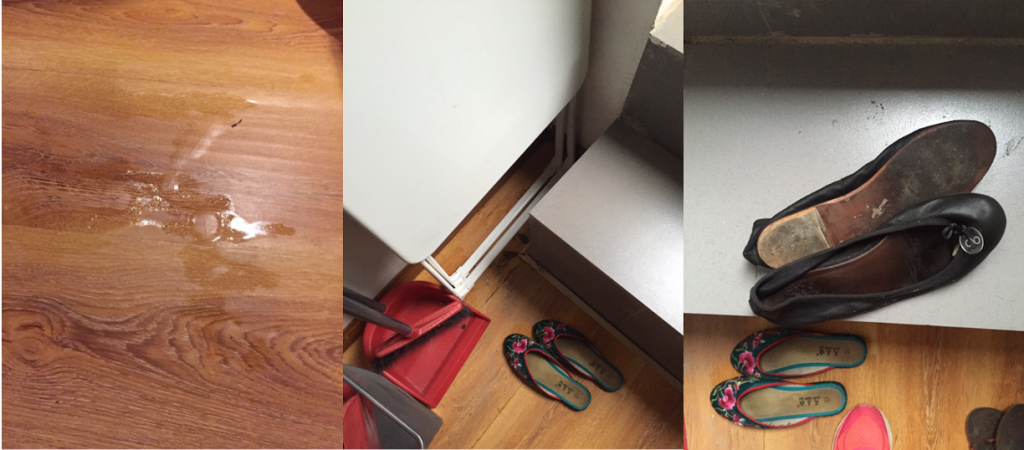 2nd Flooding
In July, on one of the days when heavy rain soaked Beijing, I asked the agent to keep an eye on my apartment while I was at work. When I sent a message to ask about the apartment, she replied that everything was fine.
However, when I came home I realized that my apartment flooded once again and that someone had been inside and moved a couple of objects to avoid them getting wet. The agent then told me that since it didn't flood much, she felt no need to tell me. The amount of water that sprang up from the floor when pressing on the wooden planks made it obvious that the apartment had a major structural issue.
The water seemed to come from underneath the floor, probably due to a complete lack of insulation. If within a week, a few wooden objects and some food turned moldy, one could only imagine the impact that this would have on a resident's health. Again the agent refused to send someone or acknowledge this was a major issue. When I threatened to leave if she took no action, she told me that I had no right to move out over what she viewed as a small problem.

Gas Leakage
Living in a hutong and having to use a gas bottle I decided to buy a gas detector. When the alarm went off one night I asked the agent to come and do a proper check the next day. Instead of calling on a qualified technician, the agent just called the man selling gas bottles, who did a dubious test with soap and water.
When I told the guy to take away the gas bottle, as the test failed to meet any reasonable safety standard, the agent did not intervene, nor did she suggest other alternatives, and just asked for her 100RMB of deposit back.
Construction Work
After one month living in the flat, the agent started expanding her house. As a result the courtyard shrank by a few meters, causing all the bicycles to be parked directly in front of my entrance.
Workers showed up on weekends, and when I told the agent that this was illegal, she pretended not to know and said that the renovations would be over in 5 days. After two months of ongoing construction work, the courtyard was regularly filled with dust and rubbish.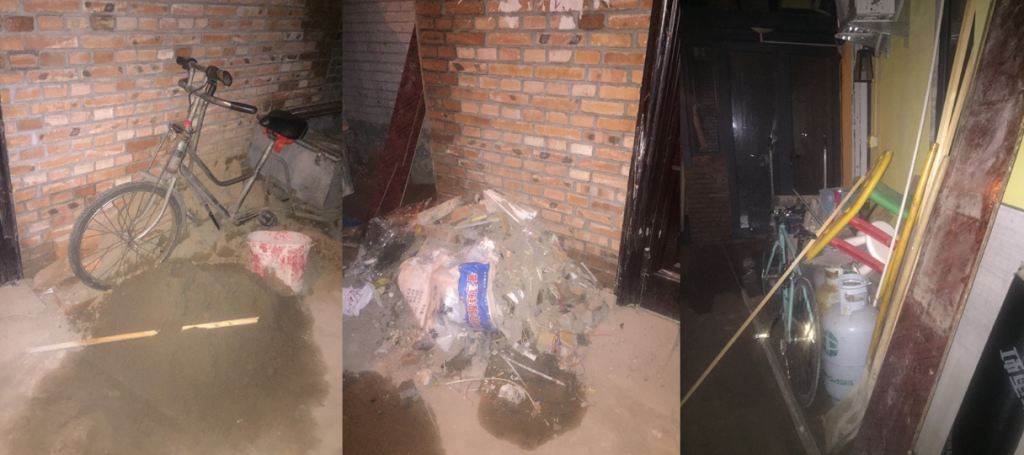 Other Issues
The agent instructed me not to talk to any neighbours and never to reveal how much rent was.

The agent never gave me my internet details. She charged me the full monthly fee of 120RMB, but she was most likely sharing the internet among a few households, considering how poor the speed was.

The agent told me never to contact her directly and to just write in a group chat with a cleaning lady and a few handymen. When I mentioned that they did not reply to many of my questions, she reiterated that I could not write to her directly.

The contract was very dodgy and only later did I realise that she had failed to include the photocopy of the landlord's ID as well as of the property.