In 2015, I started living in a Hutong located around the Beixinqiao area. They run the website www.courtyard007.com (now
homeudream.com
)
Illegal Rent
So let's start by saying that a lot of the houses that Courtyard007(
HomeUdream
) rents are not owned by themselves. That in itself isn't a problem, the problem is that the houses are owned by the government (Screen shot attached below). These government-owned houses are not allowed to be re-rented to other tenants.
Therefore you can't obtain a housing slip, here are some things that you need your housing slip for:
Getting a new passport
Getting a driver's license
Signing a new work contract
Renewing your visa
Therefore the contract given to you is not an official government-approved contract.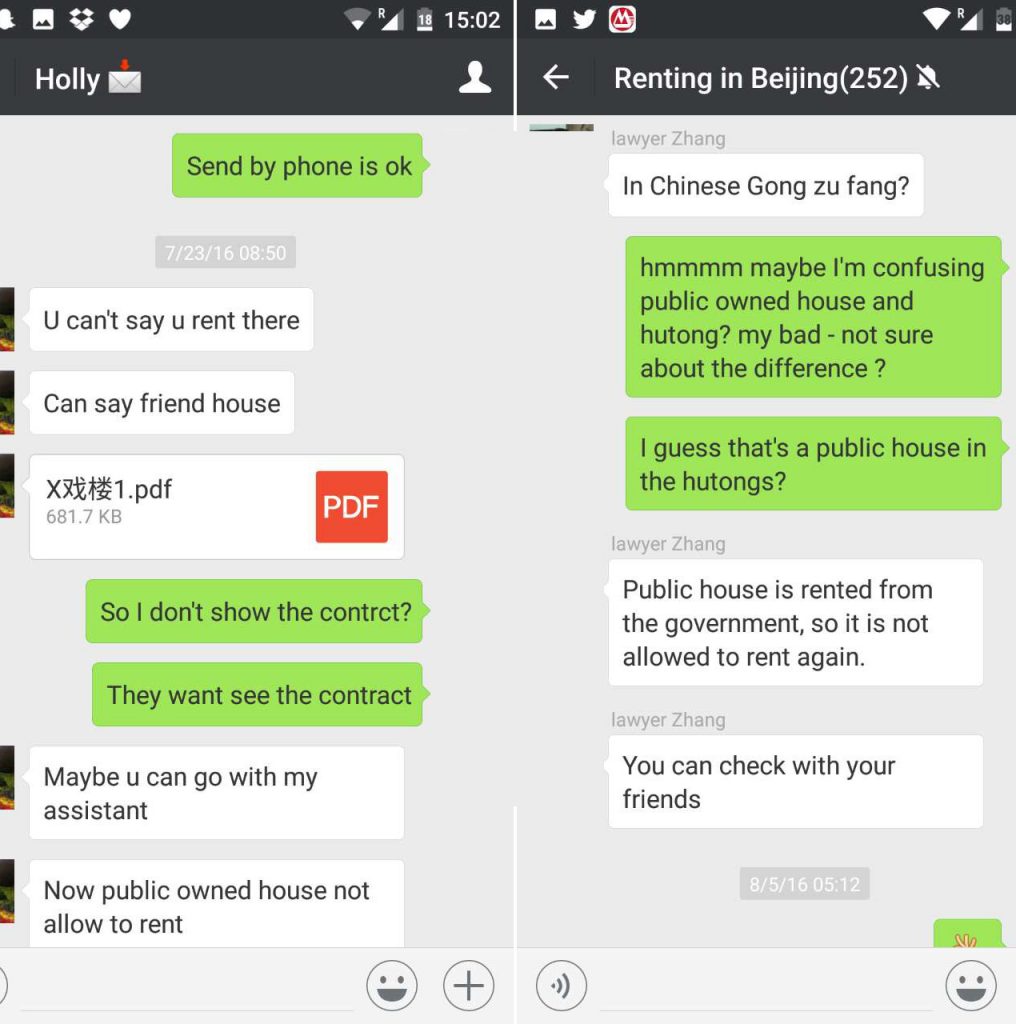 Unwanted visits
The contract (that is not legally binding), stipulates that any future viewing of the apartment can be done in the final month of the contract. However, starting from 2 months before the expiration of my housing contract, a number of guests wanted to view the house. They were forceful and at times rude.
Unreasonable Deposit Deductions
At the end of my term, the agent deducted a number of costs from my deposit. Here are some, with evidence.
1,000RMB- deducted for a small stain on the sofa that is barely visible.
1,000RMB- For a small stain on a mattress. This mattress was one that I purchased on my own to replace the original mattress that wasn't in great condition
600RMB- For two missing IKEA chairs that cost 120RMB each. (she gave me back this money when I get back the chairs)
200RMB- For a missing A/C Remote cover
300RMB- For each missing key- keys cost at most 15RMB to replace. (that she gave me back this money when I get get a copy)
I asked the agent to come to the apartment 3 weeks before the contract expiry so she could tell me what I needed to fix and she refused to do so. These costs weren't brought to my attention until it was too late for me to fix them. I talked to the previous tenant and he told me the exact same story, his deposit was 8,000RMB and he lost all of it.
Other little things
The hutong comes with floor heating- it would be great if it worked though.
I requested repairs during winter several times but nobody ever came. They would come over and say that the room was really warm and that I was imagining things- my thermostat said 15 degrees, and believe me, it felt like it.
By renting with Courtyard007(
HomeUdream
), you should expect to lost the majority of your deposit. I'm not the only one, there will be many stories in the following days that details what their experiences are like. You may think that I'm a treated the house poorly but I lived in Beijing for 5 years in 3 different apartments. In my first two places I got 100% of my deposit back, when renting with Courtyard007(
HomeUdream
), I got a bare fraction of it back. I'm certain that if there was any more "damage", I wouldn't have gotten anything back. As a whole, I'm very disappointed with my treatment with Courtyard007, (
HomeUdream
) and just want to warn anyone else who may do the same.
If you've ever rented with Courtyard007 please share your experience with me. I'm not the kind of guy who complains but this entire experience really left a bitter, final taste of Beijing in my mouth.
If you have your story with Courtyard007(
HomeUdream
), please send an email to 
[email protected]
, I'll be happy to write your story here.